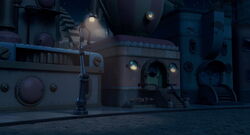 Lamppost is a minor character in Robots.
It stands on the corner in front of Aunt Fanny 's house and it has a screw for the light bulb. It is shown when Rodney, Fender, Wonderbot, Crank , and Piper do some armpit farting but eventually passes out and dies when Aunt Fanny does real farting.
An outline of it is shown on the streets, the next day.